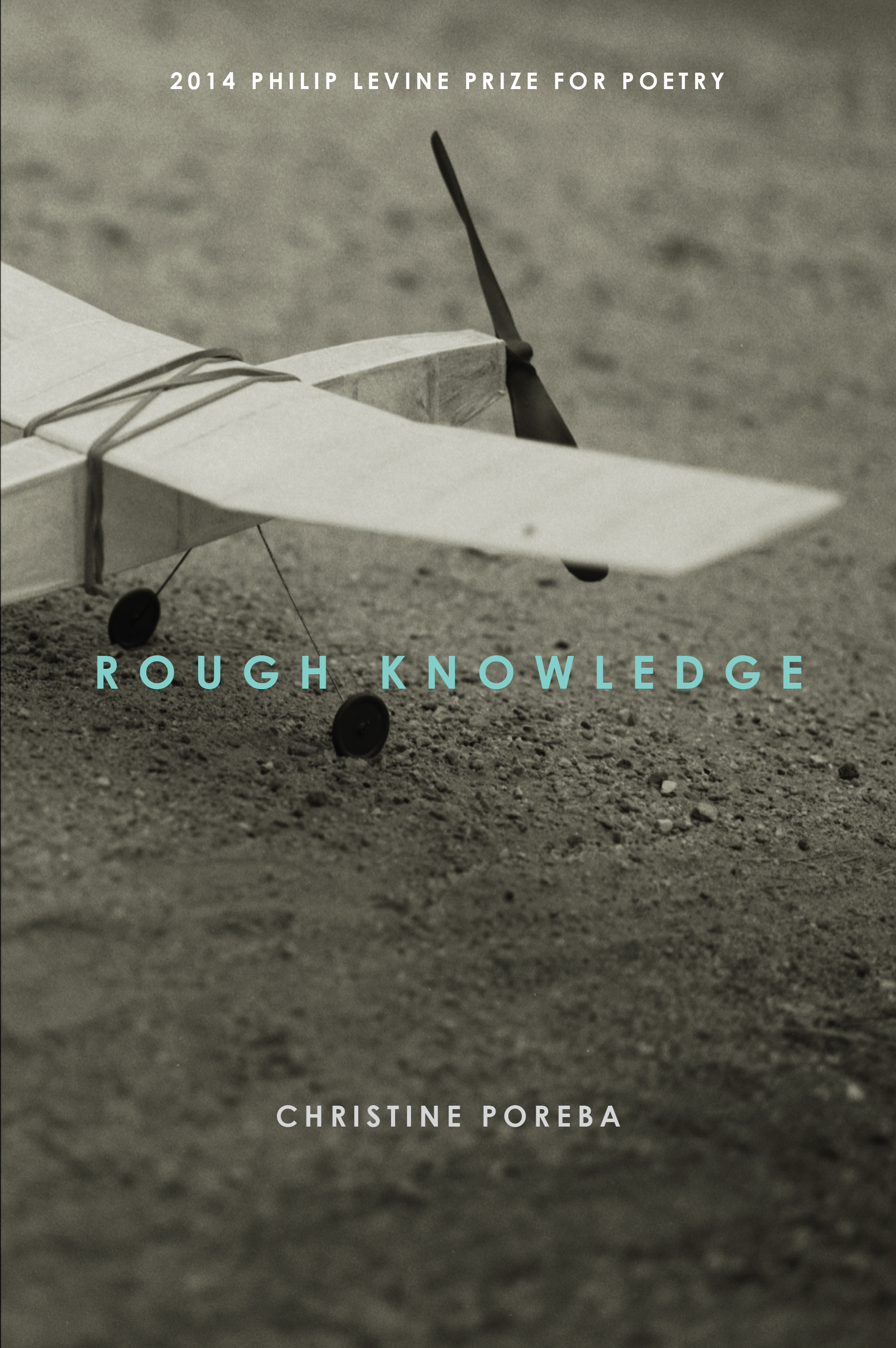 press
Rough Knowledge by Christine Poreba
Available Jan. 10, 2016
There is an extraordinary lightness to this collection of poems — it is as if they are floating just above the surface of the earth, or in dream, as they celebrate love, marriage, family, friends — the small accidents and genuine delights of everyday life. The poems are filtered through a sweet and deeply thoughtful sensibility. You will grow to love the narrator of these poems as she leads us, bravely and with caritas, to the threshold of things, frightening or heavenly, "that might be about to happen." Christine Poreba's debut collection is radiantly lovely. — Sidney Wade
We begin Christine Poreba's new book with a small miracle: a dead horseshoe crab who turns out not to be dead, but to move "like a speeding turtle, a dusty shoe with legs," and we realize that we are in the presence of a poet whose eye and ear we immediately trust. Rough Knowledge is a book we come to count on for its insight and its appreciation for the tonal resonances of our language. It offers us vowels and consonants doing what they do best: giving us a world to inhabit, one of sudden catastrophe and equally surprising delights, snow-covered Brooklyn skylights, gardens, soffits, jack studs, and dogs running toward "whatever it was that came next." It's not just a brave book, but a wise one. — Christopher Bursk
In Rough Knowledge, Christine Poreba has a poem in which she says, " I want them both:/ the space, the containment." That desire is familiar, I think, to most of us. Not incidentally, however, it also is at the heart of making poems, certainly Poreba's poems, which begin in some common event or scene­ — flying a model plane, watching someone familiar walk down a street at night — only to lead into a restless questioning of what appeared as common. Hers is a beautifully sustained and often surprising art of connections that takes nothing for granted. Even a butterfly's sudden smear across a windshield "could/ look a bit like/any human sorrow …" I don't mean to suggest that her poems move toward abstraction or conclude in comforting generalities. She has an eye for exact particulars and doesn't stray from them, but her poems are so transparent, so quiet and intimate with the daily ambiguities and revelations of experience, that if you listen carefully you can almost believe the movement within her poems is like breathing: inward-containment, outward-space. I want such poetry close at hand. — Peter Everwine, Judge — Philip Levine Prize for Poetry
Poems from Rough Knowledge
Toward Home
My husband and I pass a horseshoe crab on its back,
and I think: another dead thing.
This is the ancient armor my father would pack
in plastic bags every August. I can still smell
the crumbling seaweed, feel the sharp points
of their tails poking me and my sister in the backseat.
I've forgotten whether he ever told us that these husks
were only remnants of one stage of the creatures' lives,
that they would have already been swimming in new skin
as we traveled back from summer.
My husband rights the horseshoe crab,
and, to my surprise, it moves,
like a speeding turtle or a dusty shoe with legs.
If there were music to accompany this dance
of what I thought was dead becoming alive again,
it would have to be the tuba, whose highest notes are held
by their own weight, whose strains of comedy
steep beneath the dark. But just a few feet
from the water's edge, our horseshoe crab stops —
does his eye (one of ten, I learn later)
alert him to the shadows of us, still standing?
Or to the birds, whom I've heard could pluck
his insides out while he is still alive? We wait for him
to move again because we want to see the end,
when he gets back home, to imagine the first
moment that sea streams through his bookgills,
coats his tail, sets his brain in sync again
with the shore's cycles of light and dark.
I think of our own approaching journey,
how in those last few hours on the road it hurts to stop.
We stand and readjust our eyes to keep him
from becoming just another set of tracks in distant sand.
Flight
A butterfly flaps lightly
down the highway.
It's how a prayer
might look when sent
to spoken air.
It floats toward
our windshield,
and is gone.
On the scale of tragedy,
this collision
is a fight in a dollhouse.
But the mark left
on the glass could
look a bit like
any human sorrow —
the way the stain spreads
crooked in a corner,
and vibrant colors slur
into a spot of white
that opens up
another memory,
another butterfly,
one we climbed
to a roof to release
from a box
into the city,
one flying close
to the ground
that a four-year-old
with a purple sneaker
and double-knotted laces
stepped on with a purpose
no one understood, with the force
of a harsh current of sky.
Before Marriage Dream and Waking (No. 1)
Last night I flew for hours,
five feet above our lawn,
a simple breaststroke
in the air,
as if all the swimming
I had done
were preparation
for this flight,
the water,
a mantle for this new
bearing of light
and ground.
Awake, I heard
your breathing
and it was the wind
still rising.
Two windows stood
at the foot of our bed,
an entrance to this world
from another view.
And the light
that filtered through
came from a moon
that wouldn't set.