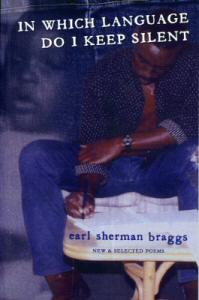 press
In Which Language Do I Keep Silent: New & Selected Poems
Earl S. Braggs' poems twist and wind through cities and streets, celebrating ordinary people and historical figures alike. He is generous enough to let them live in their own telling details, without bias. Like Whitman, he finds occasions for song everywhere. It is a rich, finely textured world full of surprises and insights. In Which Language Do I Keep Silent is a rich opportunity to experience this poet in all his powers. -- James Tate
Earl S. Braggs' Crossing Tecumseh Street is lively, vocal, and laced with an intelligent sense of humor. I enjoyed these poems. --Billy Collins
USA Today
(Cover Story)
Billings, Montana
The last real cowboy was buried in Boothill Cemetery
with his boots on, of course, in Billings, Montana.
On the west bank of the Yellowstone River is the seat
of Yellowstone County where the range riders
of Yellowstone still ride in the shadows of a life size
Yellowstone bronze cowboy and his mount. There's
a Yellowstone Art Museum and a Yellowstone Cowboy store,
a Yellowstone Avenue and a Yellowstone Road that leads
to a breathtaking view of Yellowstone Valley. Homesteading
days still fool the sun into believing in yellow light
even at night in Montana. Ponderosa Inn is where I stay
all lined up yellow in a yellow room following the sound
of yellow laughter. I am the narrator of narrow streets.
All stories are yellow here in Yellowstone Town. In spite of
Boothill, this is not a ghost city. It's pretty
ordinary. Street people talk to themselves. Pickup trucks park
where they want. Rush hour traffic is in a rush. Yellow buses
make you wait while they unload children. Street signs confuse
and lunch cafés are crowded
around yellow corner tables. Waiters and waitresses call customers
honey and sugar. All is sweet in Yellowtown
especially on yellow summer coffee mornings. By ritual
and design I read the USA Today at the Yellowstone Café,
Bar and Grill. It's Sunday morning and Johnny Peartree is looking
at me, telling me without saying the words: Indianville died
here in Yellowtown. Up and down these not so easy streets,
it seems, every car is talking to God on a cell phone. Which
God? Johnny Peartree's brows form a question. I question
the crossword puzzle but not the puzzle pieces missing. I know
the answer, I always have
worn my hair in a ponytail, always sat with my legs crossed
in the style of Sitting Bull, always been as crazy as Crazy Horde,
always walked in beauty easy as Kicking Bird, always
followed the sound of yellow laughter in this Yellowstone Town.
Johnny Peartree is me. Magic. See now and now you do not
the white buffalo caught yellow in high plateau dust, a photograph
of Montana on a blue sky day. Boothill, the saddles are empty now.
-- from Crossing Tecumseh Street