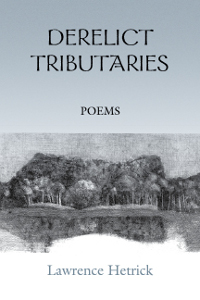 press
Derelict Tributaries by Lawrence Hetrick
These beautiful poems are steeped in the dark tannin of loss. Redwater rivers, blackwater rivers -- they carry on, tributaries distributing memories through the sandy landscape of home. The poems are formally measured, with an elegiac economy, quiet Eliotic echoes, the ever-presence of rain, tupelo, eelgrass, sparkleberry, oyster shell, snake. As they sensually evoke the Florida terrain, these elegant poems say there never was a Paradise to lose, we have only ever owned recurrent waves of growth and inevitable regret. -- Sidney Wade
Lawrence Hetrick has given his collection of emptied landscapes, deserted promises, and dilapidated fields an accurate and telling title. Derelict Tributariesportrays a world "as real as what is here / and what is gone from here" with decisive, economical strokes, making a poetry that an artist like Edward Hopper would admire. Underneath the surface lies "an icy hope," but nothing is sentimentalized in this space as lonely as "a radio playing old songs / Till dawn in a dark gas station."

I like this collection immensely! There is something a little Hardyesque about it; the unflinchingness, I guess, but also the strong and lonesome presence of the observer. A strong book! -- Fred Chappell
A Visit to the Sandhills
I wake beneath a bare pine bole
Worn as a mule rib in drifted sand,
And my eyes wake rising up it
To find the pale land of the moon.
I can trace each gully and ridge
And hunt arrowheads in ash all day,
Unafraid of ghosts fled there for rest.
Dry ticking wind wakes in scrub oak,
And up the gully track a dust-devil
Whirls toward me. Between oldfield
Plums run ruts soft as flour,
Leaves like insect shells underfoot,
Under wagon wheels crunching,
Jolting over pothole pine roots.
Eventless sky smells like flint.
The wagoner's work is done. He laughs
Over his shoulder at the hilltop house,
Its clapboards silvered and splintering,
Chimneys cracked, windows broken,
Empty rooms howling Never,
The winter sky as blue as ever.
Canoeing to the Underworld
After a storm
Over windfallen trunks we haul,
Through broken branches, vine bound,
Under, around, between, and over.
After four days hauling, we know
We are doom-devoted. After five,
The river upside down, we slide
Under drowned leaves into cavern
Where flames drip, shadows smoke,
And dark closes like jaws behind us.
Shadow countenances crowd us,
Telling our unlikely futures
That we should be can't believe.
Under their coats more shadows snuggle,
Their unlived lives that look like pets,
Round-eyed and furry, with pointed teeth.
Perhaps we'd like to take one home?
Oh no, we're leaving now, done
Feeding blood to shadows so they speak.
Morning Fire
On an imaginary Suwannee, 1961
In winter's brittle, exile place
His face could be raw burnt with frost,
But he doesn't expect the perfect face
Of a mirror or the visit of friends,
Those lost like the very dead.
For him who keeps no face for friend
Or lover, there is a gentle, certain art:
Stirring the ruff of ash to find
Last night's embers' heart
Till wind quickens little flames
Flickering like his night-long dream,
Dance and dancer so perfectly seen,
Spinning like a figure in a music box,
Quick as flame, brief as snow flakes
Drifting at dawn on the white dune.