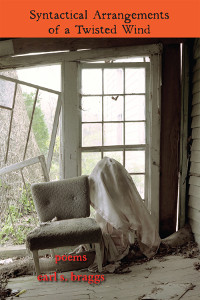 press
Syntactical Arrangements of a Twisted Wind by Earl S. Braggs
Earl Braggs' Syntactical Arrangements of a Twisted Wind is a prophetic work. American as the blues, these poems take the outrages of recent history into a vision where the heart and humor, irony and vulnerability enable poet and community to survive -- and sometimes sing. There's breathtaking bravery and edge to the voice here, a Joycean stream of consciousness that refuses to be censored or subdued. This book moves our poetry in ways that only a true poet can. -- David Mura
Story Without an Ending
White girl sitting alone in a black jazz box theater,
two complete stories above, without endings, ends
in this place, graced by the sad jazz of Star Lucky
Coffeehouse and Café on a street with no name,
in a neighborhood that has forgotten to be ashamed
of its own cracked-up sidewalks. Nothing here but
white trash reasons and broken blue beer bottles,
now empty of any promise at all. Allyson Blue
is the name I assign to this whiter than white
white girl who wears the mistake of black dye
in her platinum blonde hair. She doesn't care
to look into her own black-eye lined eyes, but
tonight she is looking through John Lennon glasses
at me. Me, I am listening to the Rolling Stones
rolling out a radio talk-show of rock 'n' roll
in a bowl of red beans and rice and jazz, so nice tonight
in this Sad Ballad Cafe afraid to face the reason
the morning sun does not want to shine brightly
upon either of us, unwanted cornfield children,
forgotten because we forgot that color matters in
South Carolina during the height of hurricane season.
A storm named Earl is on his way. We both refuse
to evacuate tables of impending high wind, rain. Love
is love and no matter how you shape it, it is still
going to be full of bullet holes. Broken hearts bleed.
No need to turn back or turn down the silk sheets
of an unmade bed. Love is the only thing that can die
and not be dead. Allyson is reading, slowly, the palm trees
of my hand. My fingers are pointing at her breasts
of reasons for pointing out the inconsistencies of tracking
the projected movement of damaged hearts and weather
patterns that call out our names, scribbled, put away
and forgotten only to be, years later, re-forgotten again,
but the story never ends. In rainy, wind driven, stormy times
like these, the movie makers never want the audience
to know black and white photography is way more beautiful
than any coded color coded colorful situational drama.
Cornfield life is real. Cornfield music is jazz. Allyson
and I, we make our unsteady way to the exit of this
song, she is breathing softly the spaces between my words,
and I'm listening to lips, painted red rush hour red.
Broken hearts bleed. Blood on coffeehouse floor, everywhere
Where are my keys? What day is today? Where does
forever come from, and where does forever go when
it disappears? I do not know is always incomplete,
the answer to standard sized questions of impending
weather patterns defined by the wet noise of wet wind
and rain that would explain, if it could, pelting from above.
Love is the only thing that can die and not be dead.